Tips when Travelling by Bus
With the summer arriving, we have plenty of travelling alternatives to recommend. Travelling by bus is one of the best options available, and a great way to save money, enjoy commuting for a change, and leave the car aside for a while. If your choice is the bus, then we have some advices to make your journeys as comfortable and enjoyable as possible.
The first simple but effective tip when you travel by bus is to arrive at the station or the meeting point 20 minutes earlier before departure. With this simple step, you will avoid lots of problems or any inconvenience that may occur before starting your trip.
Furthermore, if your trip has any connections within your travel, it is always a good idea to check out the stopping place to be able to recognize it. Luckily for us, there are some Apps that can help us with that, like Google Maps, which has relevant and specific information about bus stations or airports to help plan your trip better. This way you can save time and not get loose.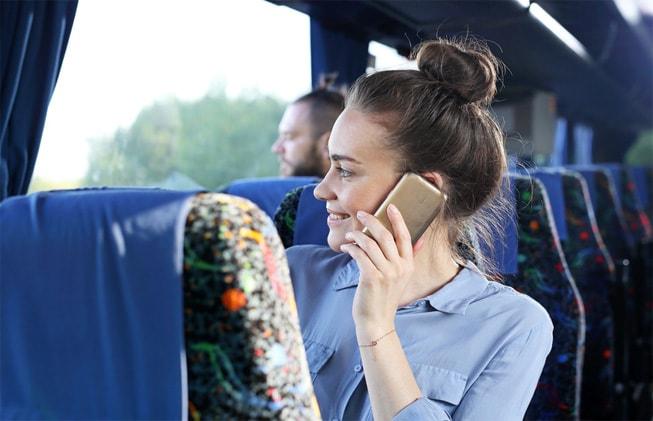 Depending on the leght of the travel you have to be more prepared or not. Nevertheless, these useful tips will help you to be. First of all, you have to think about comfort when travelling. So, leave your tight and fancy clothes for Saturday night and change into some more comfortable light and fresh clothing. A good and comfy footwear is another important thing as well when travelling, especially during the summertime. So, you can avoid high blood pressure in the legs and feet if you have the right footwear.
The purpose of this article is to coach you about being prepared when travelling by bus. Earplugs and sleeping masks are two objects to consider. You can carry both easily everywhere, and definitely they will help you in unexpected situations. Not so convenient to carry but still nice to have, is a travel pillow, allowing you take naps almost anywhere. You also have to take a small travel bag with the basics hygienes products such as toothbrush, toothpaste, deodorant…to keep fresh and clean while travelling.
Once you have everything ready to travel comfortably you can start thinking about the fun part, entertainment. Music, movies players or a good book are one of the best you can have when you travel. Even your smartphone or tablet could be nice if you want to stay connected with your social networks. Any of these items can make your trip a lot more fun, but make sure you charge all your devices before leaving!
Last but not least, make sure you take a break whenever the bus stops. Go for a short walk, some fresh air, to the toilet or even, buy some snacks or cold beverages if you don't take with you. Stretching your legs will minimize the chance of developing bad travelers syndrome.
Following all these advices will give a better travelling experience, find new places and could also avoid you to have some kind of dizziness or sickness during your travel.
I hope you have a wonderful adventure.
Sources|  Wikipedia, El Pais Digital
Images| foter